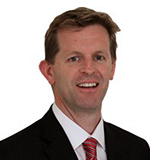 Mr. Adrian Trivett
Mr. Adrian Trivett
MBBS, FRACS (Ortho.) F.A. Orth. A
Orthopaedic Surgeon
Knee Surgery & Joint Replacement
Adrian completed his medical degree at Monash University in 1990. He undertook surgical residency at the Alfred Hospital then trained in Orthopaedic Surgery in Melbourne, becoming a Fellow at the Royal Australian College of Surgeons in 2000.
Adrian undertook two years of overseas Fellowship training, initially at University of Western Ontario, Canada, training in knee sports injuries, arthroscopy, and ligament reconstruction. He also trained in joint replacement surgery at Oxford at the Nuffield Orthopaedic Clinic, England.
Adrianís practice now concentrates on knee injuries, knee arthroscopy, knee reconstruction, and knee replacement surgery.
Current hospital appointments
Cabrini Hospital - Brighton
Cabrini Medical Centre - Malvern
Monash Medical Centre- Visiting Specialist

Overseas Fellowship Training
Knee Surgery Fellow (Sports Medicine & Arthroscopy) - University of Western Ontario, Ontario, Canada.
Knee Surgery Fellow (Joint Replacement) - Nuffield Orthopaedic Clinic, Oxford, England.